WEDNESDAY
6:00-9:00 PM
Great night for beginners!
Bring the Family!
Next Adult Night is Thursday Sept 7th from 6:30 to 9 pm! 18 and older only.
FRIDAY
6:00-9:00 PM
Top 40 Fun Skate!
Everyone is required to wear skates/blades on Friday and Saturday nights except parent spectators.
SATURDAY
Closed Saturday afternoons and evenings Memorial Day weekend through Labor Day weekend except Saturday night June 3rd
Summer Jam 2023 is Saturday June 3rd from 7 to 10. This is an open public session for anyone to attend.
Features some of the best jam skaters from the area competing for prizes!
SUNDAY
Closed Sunday afternoons Memorial Day weekend through end of September
Sunday afternoon (1-4) sessions start up again Sunday October 1st!
Pricing:
$8.00 if you have your own skates. $10.00 if you don't have your own skates
Everyone is required to wear skates/blades on Friday and Saturday nights except parent spectators.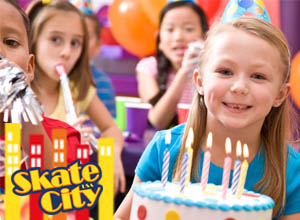 Having your birthday party during open skating is fun and easy! Please give us a call (920-788-6059) to let us know you're coming. We just need the name of the birthday person and about how many guest you are expecting.
Click here for all the birthday party info you need to know
. You are welcome to bring your own cake, ice cream, and pizzas(Domino's, Little Caesar's, etc). We also have pizzas at Skate City we can make for you. Please no other snacks and beverages. All birthday guests will receive a complimentary birthday drink. The birthday guest will have their birthday announced during skating and receive a favorite song request.
When you arrive please have a list of guests in case everyone doesn't arrive at the same time.
Click here to print and create your Birthday Party Guest List
. If you don't have access to a printer simply make up your own list on a piece of paper. We will be happy to check guests in as they arrive - just have them mention whose party they are with.
Need birthday invites? We have you covered. Please select from various designs and colors below!
Let's Roll! Blue
Let's Roll! Pink
Let's Roll! Yellow
Let's Skate! Green
Roll On Over! Green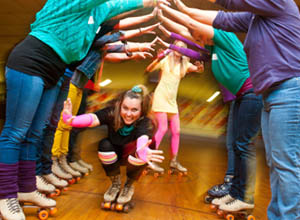 What a great and unique way to bring your friends and family together!
The following is included with all private skating parties:
Two hours of private skating
DJ playing your requests and favorite games
Snack bar is open for any purchases your guests want to make. You can also run a tab if you'd like
To schedule a private school, group, or birthday party call 920-788-6059. Dates are secured once your $100 deposit is received.